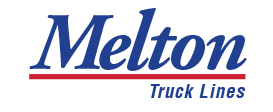 Company Profile
Description: Melton Puts Drivers First
Headquarters: Tulsa, OK
Number of Terminals: 6
Number of Trucks: 1300
Number of Owner Operators:
Type of Freight Hauled: General
Operating Area: 48 states and Canada
Equipment Type: Kenworth
Hiring Area
Alabama, Arizona, Arkansas, California, Colorado, Connecticut, Delaware, District of Columbia, Florida, Georgia, Illinois, Indiana, Iowa, Kansas, Kentucky, Louisiana, Maine, Maryland, Massachusetts, Michigan, Minnesota, Mississippi, Missouri, Nebraska, Nevada, New Hampshire, New Jersey, New Mexico, New York, North Carolina, Ohio, Oklahoma, Oregon, Pennsylvania, Rhode Island, South Carolina, Tennessee, Texas, Utah, Vermont, Virginia, Washington, West Virginia, Wisconsin
Requirements
Minimum Age: 21
Type of Experience: Class A CDL Exp or Recent CDL School
Endorsements: none
NEW Company Driver Compensation
Starting Pay - No Experience: .43 cpm
Pay - 1 Year Experience: .50
Pay - 2 Years Experience: .50
Pay - 3 Years Experience: .51
Pay - 4 Years Experience: .51
Pay - 5 Years Experience: .51

Pay - 10 Years Experience: Up to .56 cpm
Owner Operator Compensation
Other Compensation
Pay Cycle/Periods: weekly
Direct Deposit: Yes
Layover Pay: Yes
Breakdown Pay: Yes
Loading/Unloading Pay: Yes
Tarp Pay: Yes
N.Y.C. Pay: Yes
Stop Off Pay: Yes
Paid Lumpers: No
Per Diem:
Benefits
Medical Plan: Yes
Waiting Period for Medical Benefits: yes
Dental Plan: Yes
Vision Plan: Yes
Retirement Plan: Yes
Profit Sharing: Yes
Bobtail Insurance (owner operators): No
Worker's Comp. Insurance (owner operators): No
Physical Damage Insurance (owner operators): No
Bonuses
Sign On: Yes
Safety: Yes
Performance: Yes
Fuel: Yes
Longevity: Yes
Recruiting: Yes
Additional Information
Slip Seating: No
24x7 Dispatch: Yes
Rider Program: 10 yrs or older
Pet Policy: 1 dog 50 lbs or smaller
Paid Orientation: Yes
Orientation # of Days: 5
Free Training: Yes
Lease Purchase Available: No
Home Time: 2-3 weeks depending on home domicile
Unloading Required: No
If yes, specify::
Take Truck Home: Yes
Additional Comments
Based out of Tulsa, OK, Melton Truck Lines is known for treating its drivers like family. Melton's gleaming fleet of 1,300 blue Kenworth trucks proudly serves customers from coast-to-coast and has been running more than 60 years with a reputation of excellence in the transportation industry.
Get the successful career you want and the respect you deserve. Complete your application and join the Melton team today!
Call us at 877-462-3528 today or Apply Online at www.meltontruck.com.
---
Become Layover.com Carrier
---